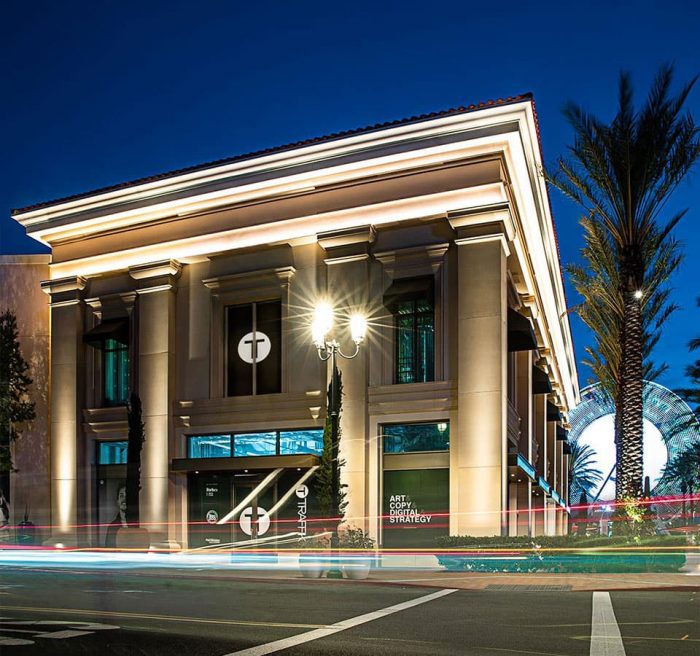 TRAFFIK Launches a Groundbreaking New Workspace
BY STAFF MEMBER
January 14, 2020
Amidst a cacophony of construction, Anthony Trimino, President and CEO of TRAFFIK, bears witness to the near fruition of his vision. Where others see a chaotic scene of industrial scaffolding, cables and concrete, he sees the culmination of more than 20 years of innovation in the advertising space.
For Trimino, "It's the physical manifestation of our mindset, of being present, of being noticed, of being recognized for the phenomenal things we've accomplished and the extraordinary work that's yet to come."
Making History
Much like the award-winning work we do for our clients, we're making history with our ambitious new workspace. In fact, this is the very first time an office tenant has been allowed to open up shop in an Irvine Company retail space.
It's a groundbreaking move in so many ways.
Spread across two expansive floors in the heart of the Irvine Spectrum Center, this fully renovated, 16,000-square-foot workspace features open areas designed to encourage breakthrough collaboration and private spaces to enable focus; stadium seating for events, premieres and presentations; a podcast studio; a video editing bay; multiple breakout rooms; conference rooms and even a DJ booth.
The Spirit of Innovation
A perfect blend of traditional and progressive, established and radical, what's now and what's next—our new location symbolizes the very essence of TRAFFIK.
That's because TRAFFIK embodies relentless growth, the constant pursuit of the unexpected and an uncompromising drive to step outside the box, kick up a little dust and reimagine what's possible for an advertising agency.
It's what's led us to be recognized on the prestigious Inc. 5000 list. It's what's led us to outgrow our current space. And it's what's led us to envision and design a revolutionary new home.
Our Unicorn
With an eye toward the future, the space was strategically chosen to serve our team and enable a clear view of what we do for our clients. When our broker found it, he knew it was perfect, exclaiming, "I've found your unicorn."
Our new location gives our team immediate access to dozens of amenities that few of the most cutting-edge office parks in the world can offer—dining, fitness, shopping, entertainment and the type of environment that inspires creative solutions and trailblazing ingenuity.
It is a reflection of our culture—open, innovative, dynamic and absolutely one of a kind. What's more, it positions us for our next phase of growth, triples our footprint and empowers unprecedented forward momentum.
See What's Next
We've been shattering conceptions of what an advertising agency can do for more than 20 years—you're invited to see what's in store for the next 20.
About Us
A collective of innovators, obsessed with delivering results.
Learn More